There are many reasons why one would want to pause a particular scene in a movie. One, they may have noticed a detail on the background that adds a lot to the story. Two, they just spotted a funny Easter egg, or a cameo by a famous actor. Three, you know, Sharon Stone is crossing her legs, or something. Whatever the motivation, these are some of the most paused moments in Hollywood movie history:
Titanic (1997)
Did you know that the first scene ever filmed between Kate Winslet and Leonardo DiCaprio was the "I want you to draw me like one of your French girls" scene? Way to break the ice!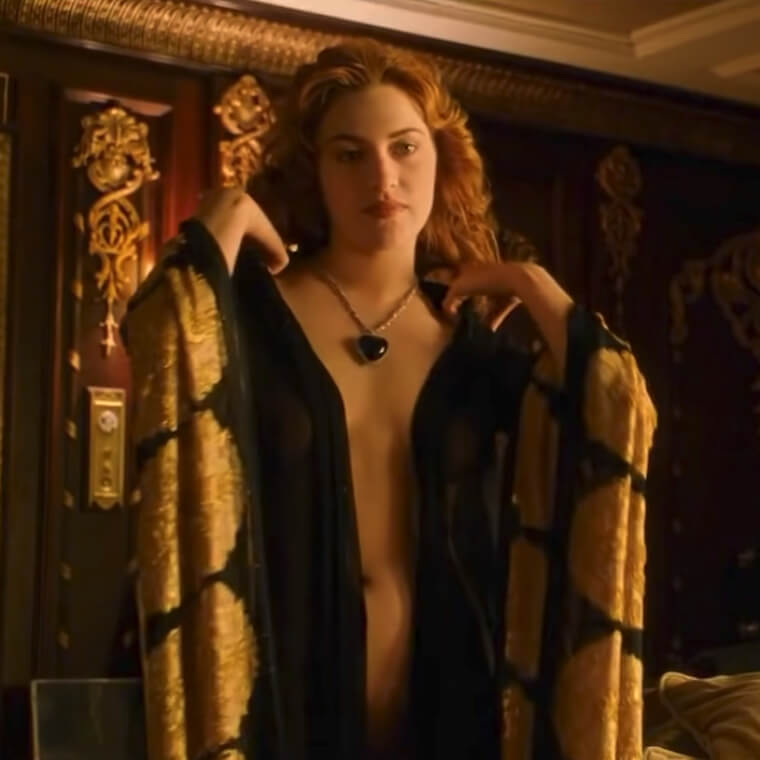 That was a pivotal moment for the film, and the actors did such a great job, it quickly became a fan favorite. Titanic, of course, became a huge hit, and Kate and Leo would work together in several other titles.
Ex Machine (2014)
Ex Machina (2014) is one of the most thought-provoking films of the 21st century. Focused on Ava, an A.I. humanoid who has a consciousness and a desire to be set free, the movie culminates in her successfully slaying her creator and using artificial skin to get out of her confinement and blend with people in the real world.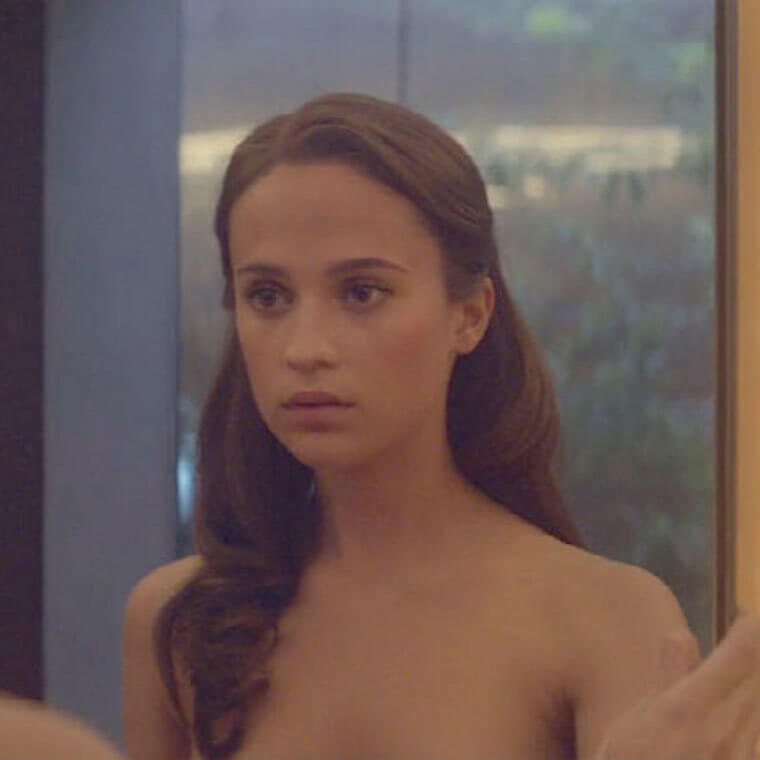 Throughout the movie, Alicia Vikander's character has a 'robotic' outfit but once she changes into her human form with the artificial skin, she appears completely in the buff for the pleasure for viewers everywhere. 
The Wolf of Wall Street (2013)
Margot Robbie had her breakout role as Naomi Lapaglia in The Wolf of Wall Street, and while she has some pretty memorable scenes in that film, this is definitely one of the most paused ones.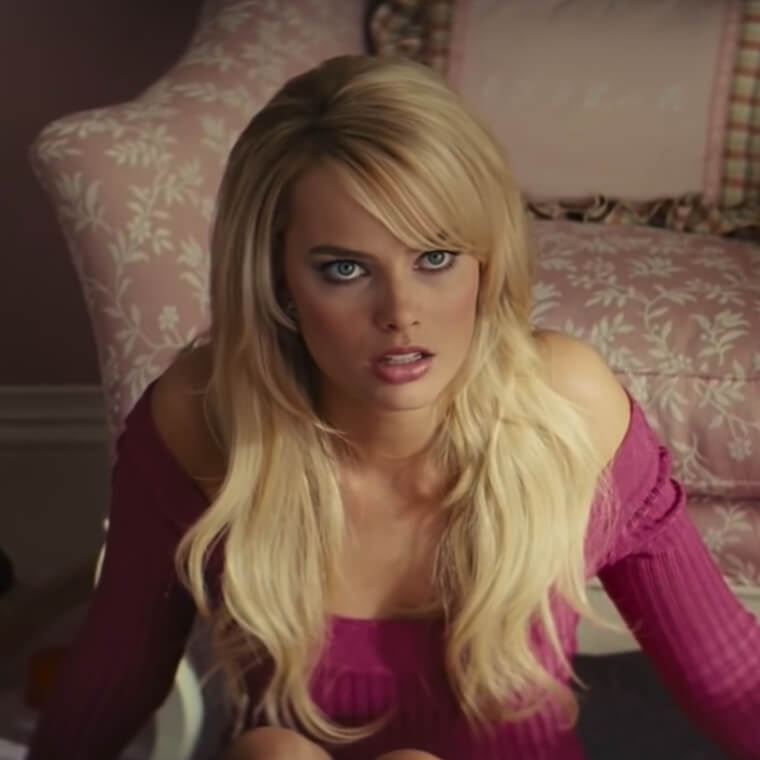 We're talking about the expertly filmed sequence where Naomi brings Jordan Belfort, played by Leonardo DiCaprio, to his knees as she taunts him on the floor - until he reveals there's a camera in an innocent-looking teddy bear.
Love & Other Drugs (2010)
When Jake Gyllenhaal and Anne Hathaway teamed up for a rom-com together, audiences knew they were in for a good time. The two paired up for this funny yet heartbreaking Edward Zwick film about a medicine peddler who falls in love with a woman who suffers from Parkinson's disease.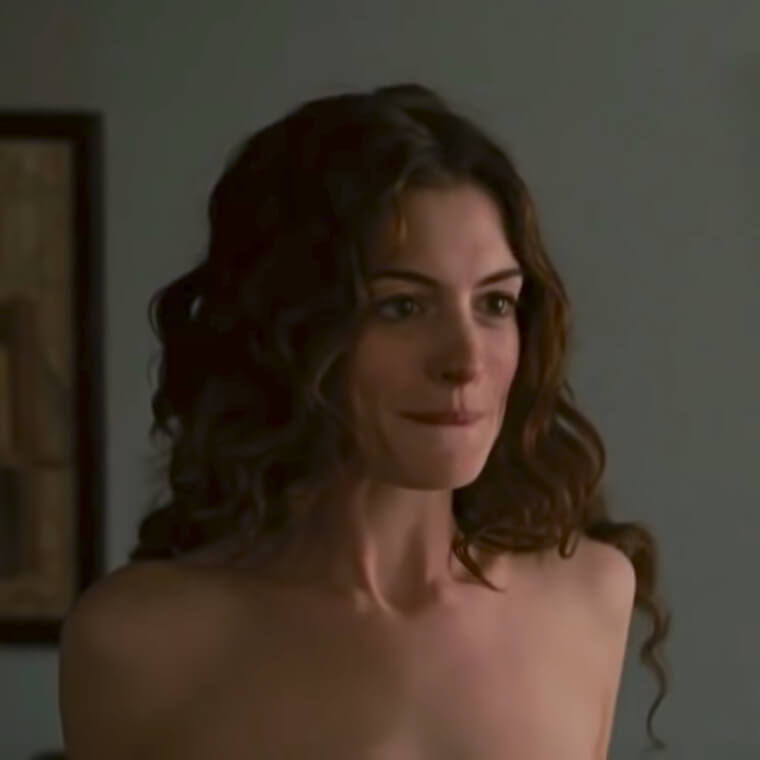 Throughout the film, Gyllenhaal and Hathaway's characters engage in multiple raunchy scenes, and there is one where Hathaway's character arrives au naturel to her friend with benefits' home, but there is one where she takes off her shirt right in front of the camera, prompting viewers to quickly pause the scene.
Who Framed Roger Rabbit? (1988)
Who Framed Roger Rabbit? was groundbreaking for its time, but there's no such thing as a flawless movie, and certain aspects of it were heavily criticized. For instance, how Jessica Rabbit was drawn.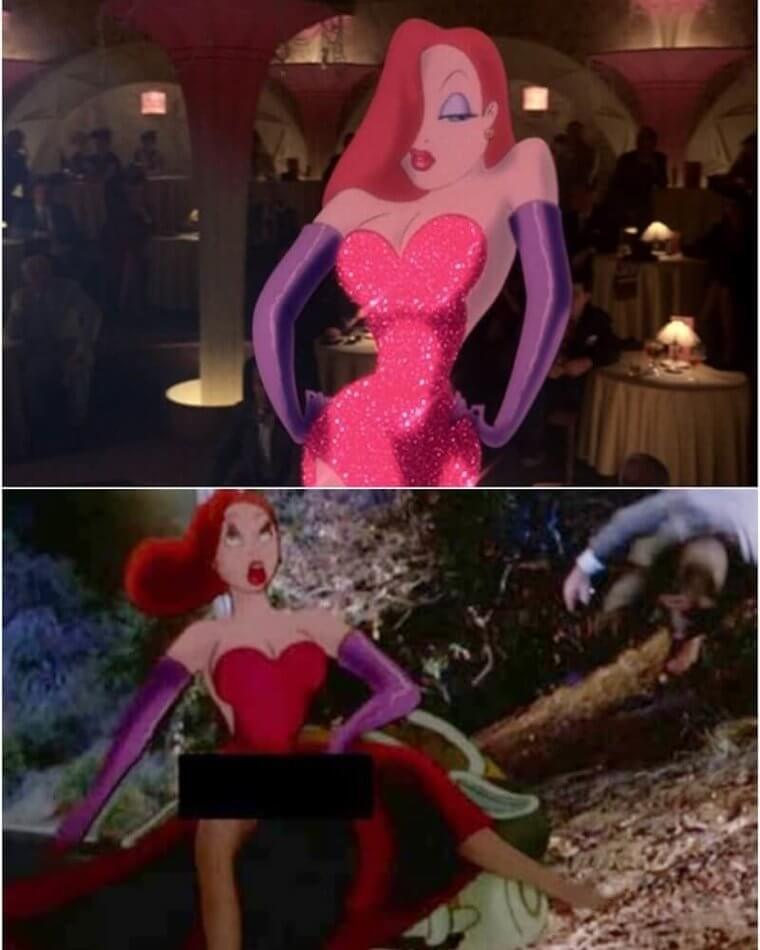 We're not just talking about her curves - someone noticed that, if you paused the movie at the right moment, you could see that Jessica was not wearing underwear. After facing a lot of backlash, the studio edited the scene, but for a while, some folks took their time trying to find those exact frames.
Men In Black (1997)
Men in Black is a movie that aged remarkably well, from its plot to its special effects, to its inside jokes. Take the holographic computer displaying alien locations that Jay sees during a facility tour, for instance.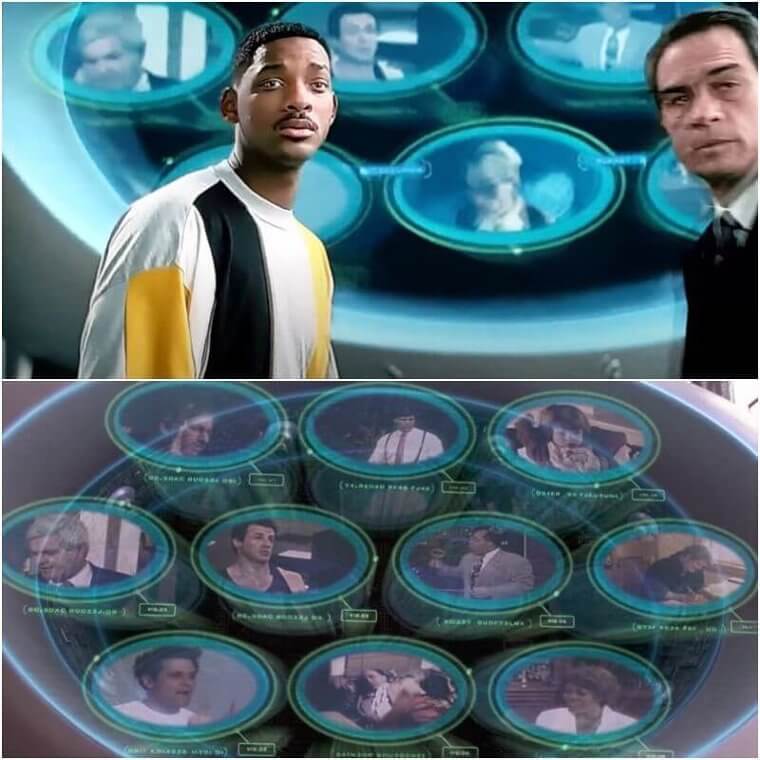 You need to pause it for a minute to recognize the aliens being monitored - among them are Sylvester Stallone, Danny DeVito, and George Lucas. The joke was so popular, it was included in the MIB sequels, too. Men in Black 3 "outed" Lady Gaga, David Beckham, Justin Bieber, and more.
Three Men and a Baby (1987)
There used to be an urban legend surrounding Three Men and a Baby according to which the ghost of a little boy haunted the set of the movie and you could actually see him in one of the scenes.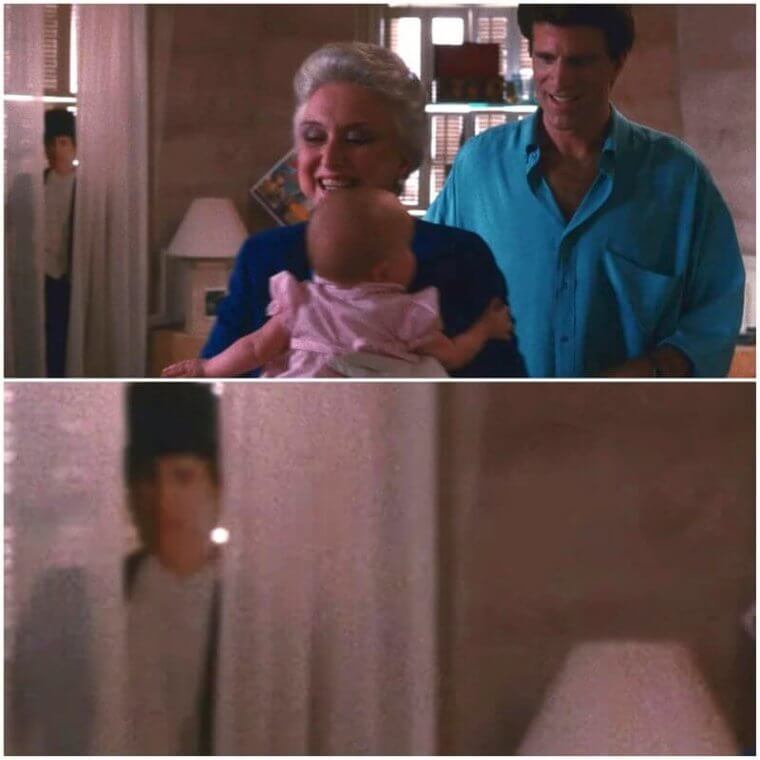 Naturally, people wanted to pause the exact moment the "ghost" appeared, but upon closer inspection, what do you know? The "boy" behind the curtains was simply a cutout of Ted Danson, who played an actor in the movie and had stand-up cardboard images of himself all over the apartment.
The Lion King (1994)
This has got to be one of the most famous Disney urban legends of all time - the hidden message that appears in The Lion King when Simba flops down on his belly, sending up a cloud of dust that forms a certain three-letter word.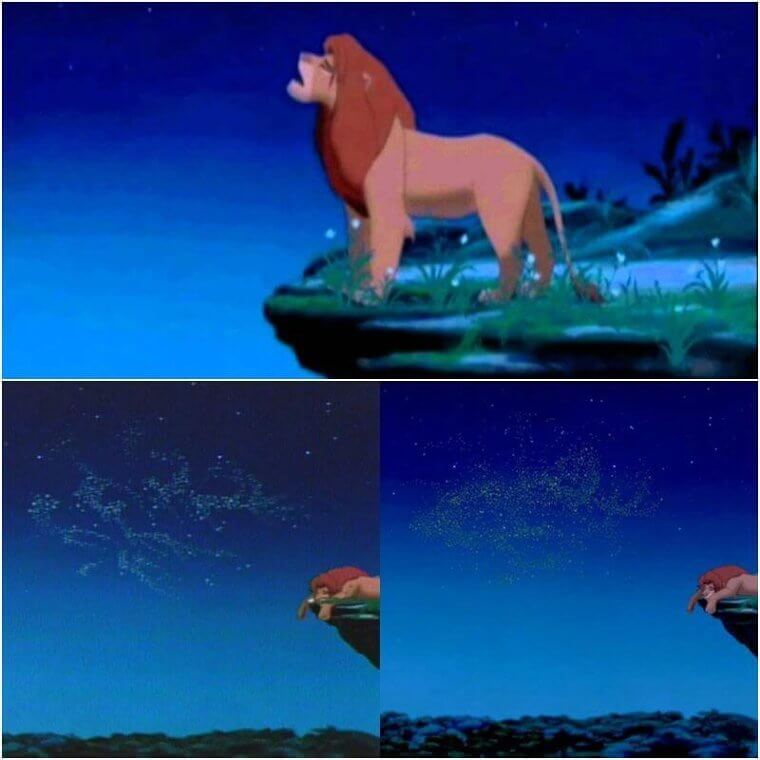 That was a little Easter egg inserted by the film's special effects department - the word is supposed to read "SFX" -, but the movie got a lot of backlash because people were sure the F was an E.
The Matrix (1999)
The Wachowskis didn't exactly invent the "bullet time" effect, but they mastered it in such a way that The Matrix basically became synonymous with the technique.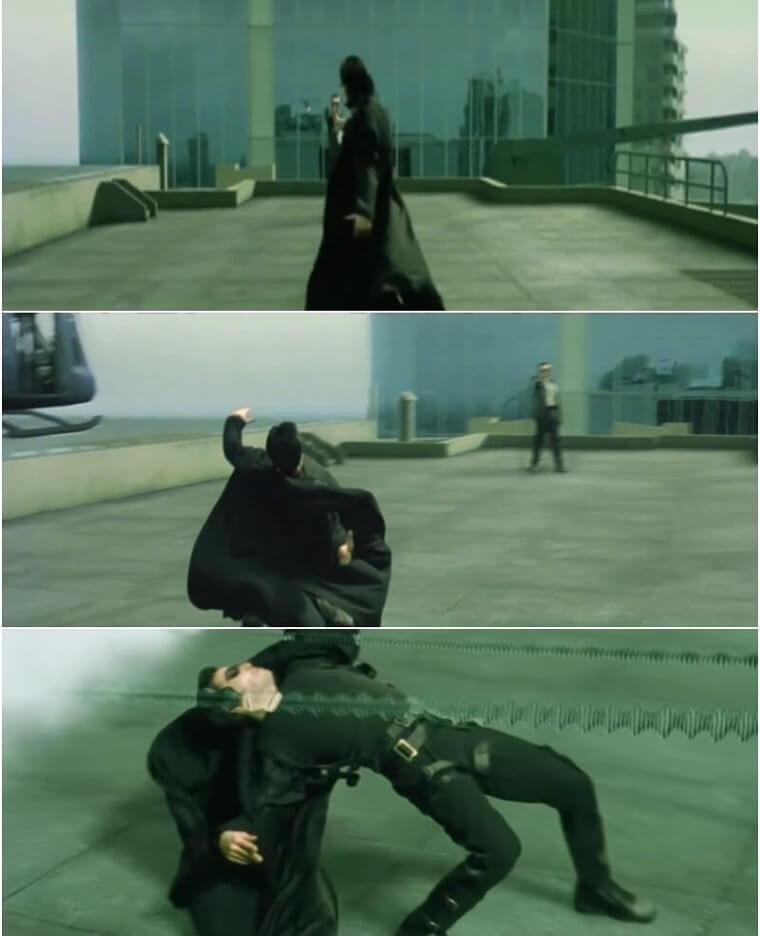 We saw it when Trinity kicked a guy in the face, and we saw it when the agents dodged bullets. However, the most remembered scene is definitely the one with Neo, which prompted people to keep hitting that pause button because they couldn't believe their eyes.
Toy Story 3 (2010)
As we can see from the screenshots here, Pixar has come a long way when it comes to animation, but one thing that hasn't changed is their great storytelling and commitment to continuity.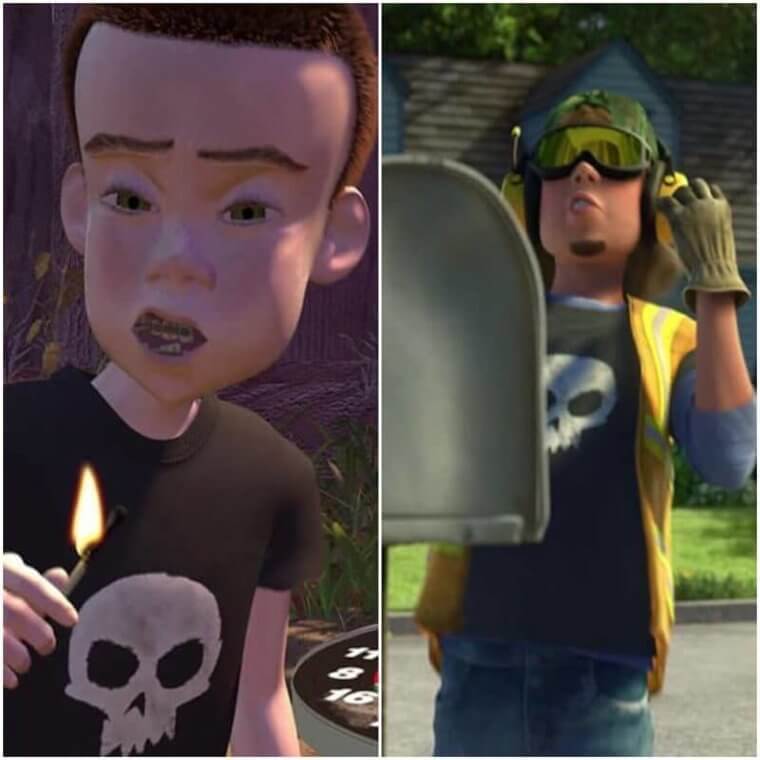 Remember Sid, the villain from the first Toy Story (1995)? You might have missed it, but he actually made an appearance in the third movie of the saga. Fans had to pause the scene to do a double take when they saw that familiar-looking skull t-shirt in Toy Story 3 (2010).
Forrest Gump
There are many iconic moments in Robert Zemeckis's Forrest Gump (1994), but one of the most pause-worthy moments features the leading lady, not man. Completely stealing the show, Robin Wright's character Jenny has a scene where she is performing in the buff in a bar where Forrest finds her.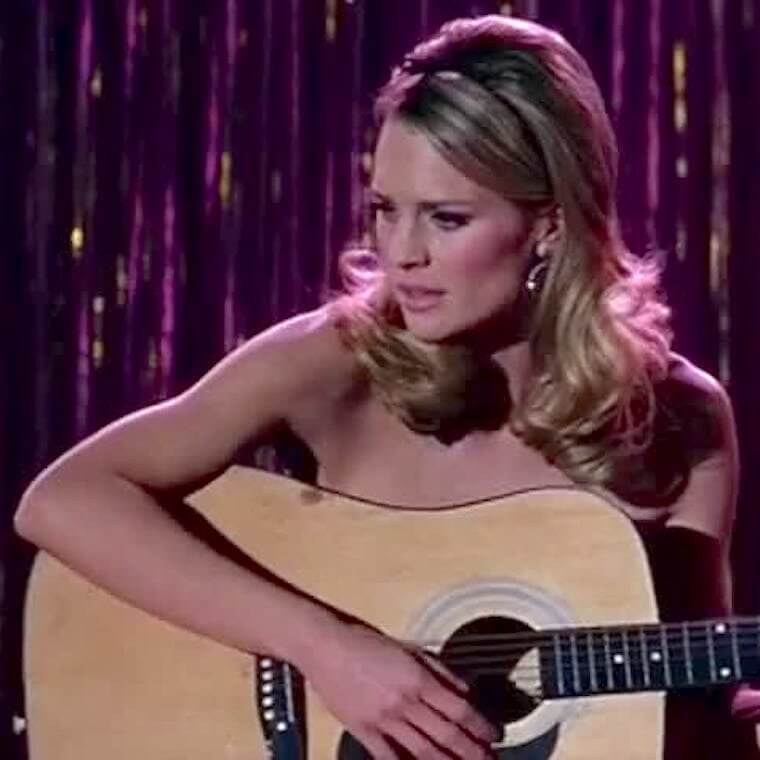 The beautiful moment in which Jenny sings her heart out is completely ruined by the men in the bar who only want to see what's behind her guitar. It is definitely one of the moments from the film that viewers paused the most.
Jurassic Park (1993)
This is an interesting case of several scenes that needed to be paused so people could check an intriguing coincidence between two movies - Jurassic Park and The Goonies.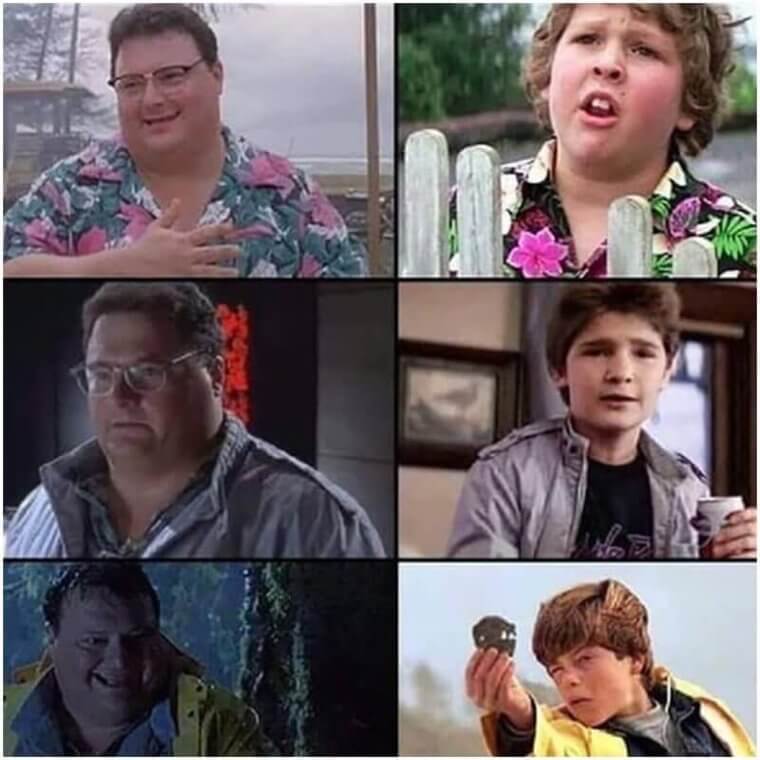 Someone noticed that Wayne Knight's character, Dennis Nedry, seems to be wearing a few outfits that look suspiciously similar to the ones sported by our favorite group of young misfits. The homage makes sense - Steven Spielberg, who directed Jurassic Park, was the executive producer of The Goonies.
Star Wars: A New Hope (1977)
Stormtroopers have notoriously bad aim - this has been pointed out and laughed about several times in the Star Wars universe, including in the first season of The Mandalorian.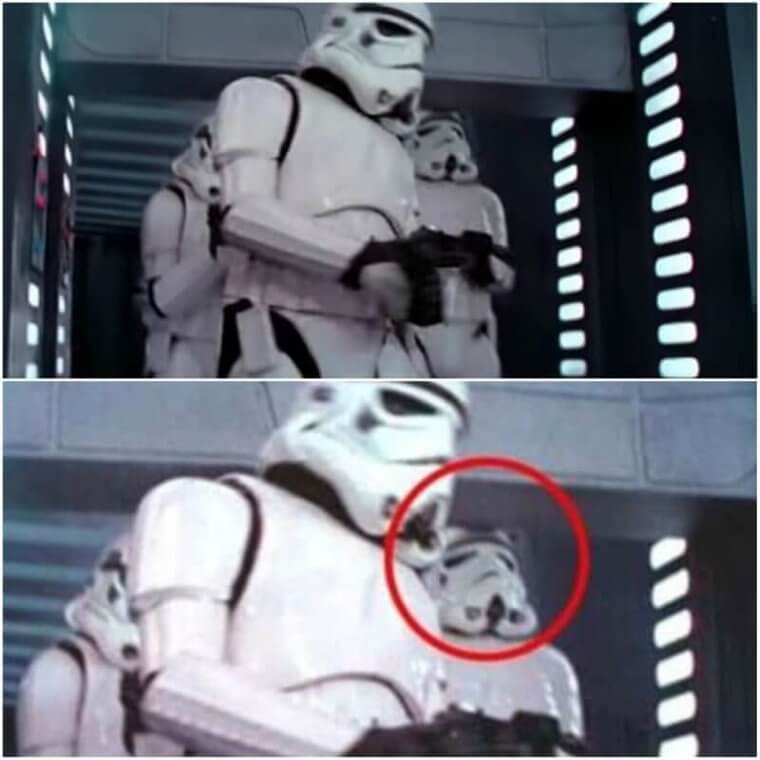 This very famous, very pause-able moment from Star Wars: A New Hope didn't help their reputation. As a bunch of stormtroopers are pacing through a doorway, you can see one of them accidentally but hilariously hitting his head on the blast door.
Back to The Future (1985)
Movie fans in the 1980s were working that rewind button when they noticed this detail about the location of Doc Brown and Marty McFly's late-night meeting in Back to The Future.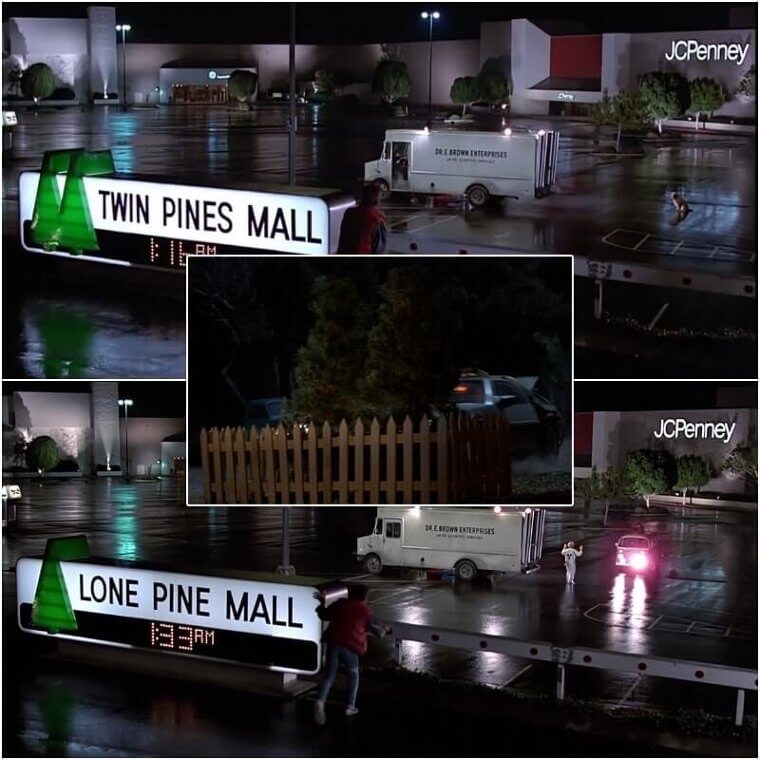 The location was the Twin Pines Mall, but when Marty travels to 1955, before the mall was built, he accidentally takes down one of the pine trees at the Twin Pines Ranch. When he returns to 1985, we see the consequence of what he did - the sign now says Lone Pine Mall.
Trading Places (1983)
It's hard to imagine anyone else as Ophelia in the classic 1983 comedy Trading Places, but the truth is that the studio had initially objected to the casting of Jamie Lee Curtis.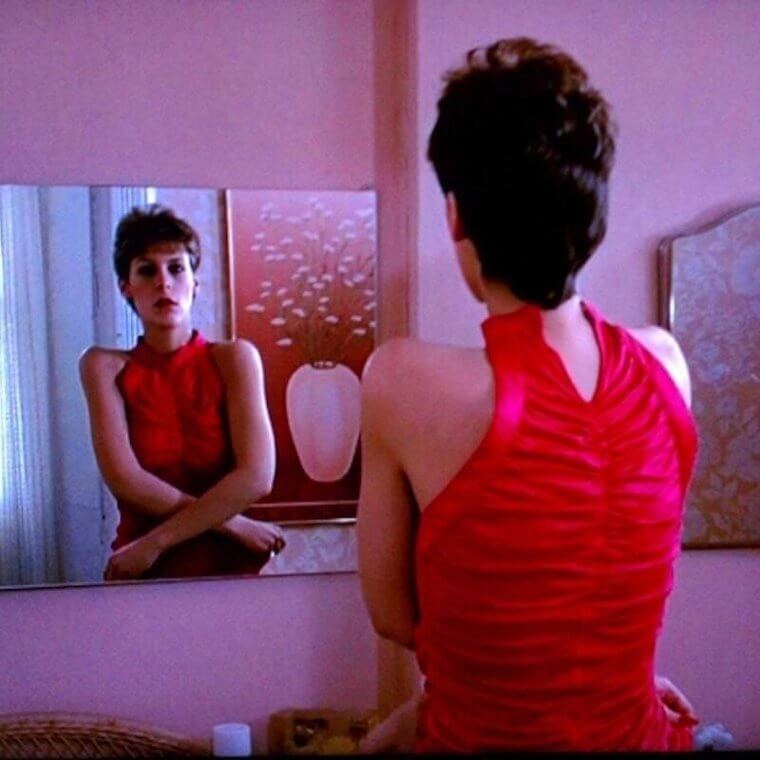 The actress was known as a "scream queen," but she wanted to move away from horror films to avoid being typecast. Her role as Ophelia did the trick - the scene where she stands in front of a mirror and reveals her perfect figure is truly iconic, and definitely made people want to linger a little longer.
Forgetting Sarah Marshall (2008)
This happens in a split second, but once we heard about this Easter egg, we had to try and find it for ourselves. Remember in the romantic comedy Forgetting Sarah Marshall, when Peter is alone at the bar, pretending like he's on SATC?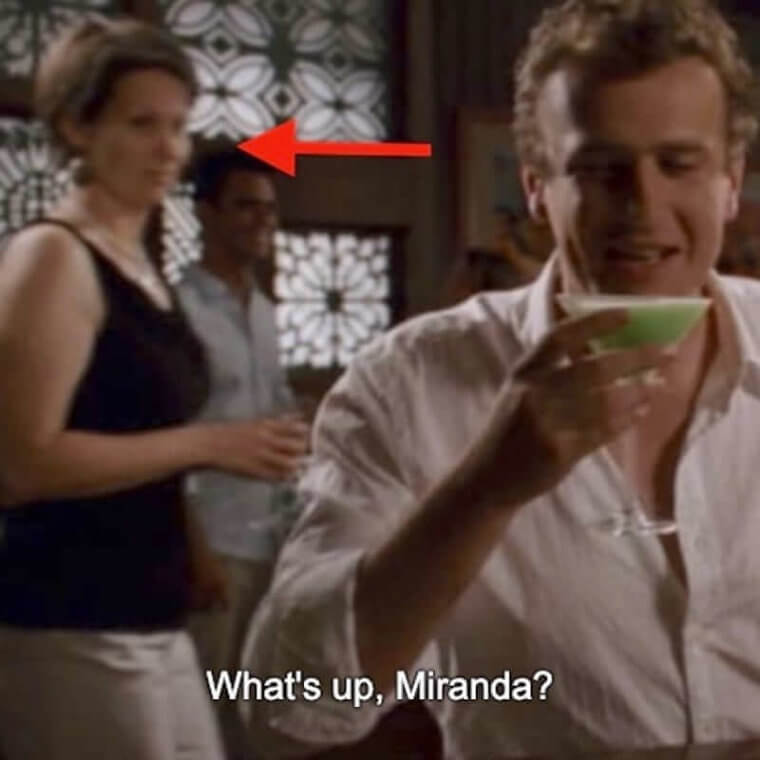 Just as he jokingly says, "What's up, Miranda?" look who walks past him in the background. Is that the actual SATC Miranda, actress Cynthia Nixon?
Star Wars: Episode I - The Phantom Menace (1999)
Many people missed this moment in Star Wars: Episode I - The Phantom Menace, probably because they fell asleep during the movie (lol, jk), but when Amidala is making a plea to the Galactic Senate, we see a very familiar face.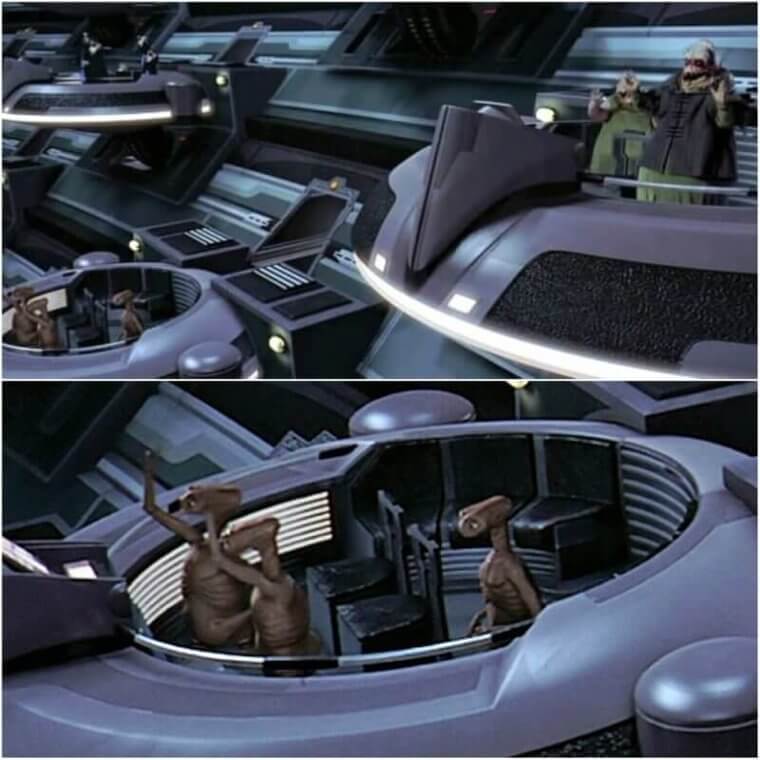 Actually, not only one, but three familiar faces - they're aliens belonging to the same species as E.T. the Extra-Terrestrial, the star of the 1982 classic directed by Steven Spielberg. Movie fans couldn't be happier!
The Wizard of Oz (1939)
One of the reasons why The Wizard of Oz is such a timeless classic is because it appeals to all ages - it is fun and entertaining, but it also has a dark side. Sometimes, it's too dark.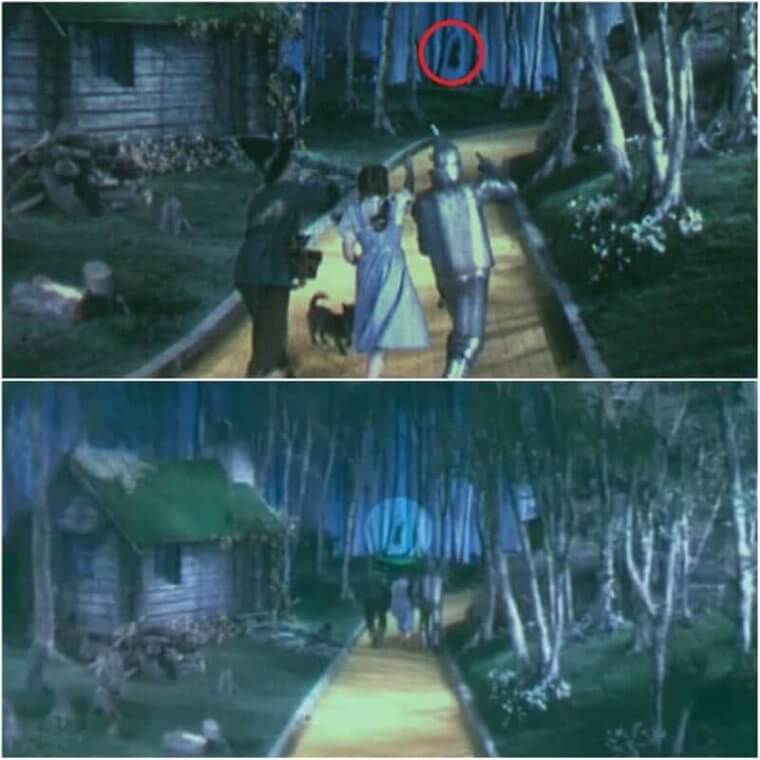 According to a famous legend, one of the munchkins ended his life on set, and his hanging figure was visible when Dorothy and her friends were walking down the road. Officials have said the shadow belongs to a big bird, but that didn't stop viewers from trying to do their own investigation.
Total Recall (1990)
Some people would say they remember the sci-fi action movie Total Recall because it's smart and energetic. Some would say it's because of Arnold Schwarzenegger's inspired performance. Lies.
We know the truth - the most memorable image from the film is when Mary proudly opens her shirt, revealing her "triple threat." That scene is such an obvious fan favorite, it was one of few elements from the original that made it to the 2012 remake.
Fast Times at Ridgemont High (1982)
Fast Times at Ridgemont High may not be the most critically acclaimed movie of all time, or the highest-grossing, or the most innovative, but it does have one of the most iconic scenes in Hollywood history.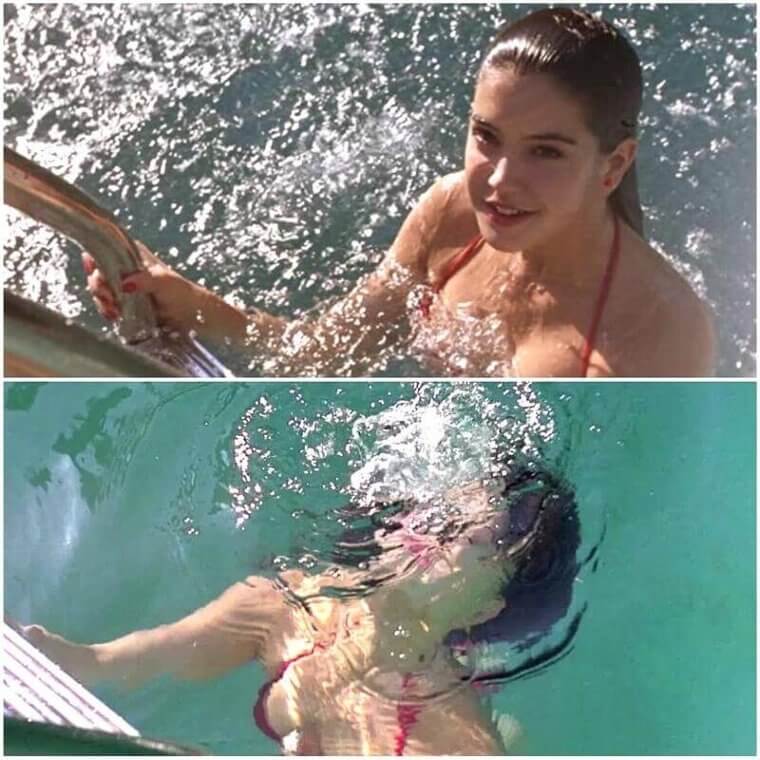 The sequence where Linda Barrett, played by Phoebe Cates, slowly climbs out of the pool in a red bikini was engraved in the memory of countless teenage boys since the film was released, in 1982.
Wild Things (1998)
It seems like every decade has its iconic "beautiful woman slowly climbing out of a pool" movie scene, and during the 1990s, that was delivered by Denise Richards in Wild Things.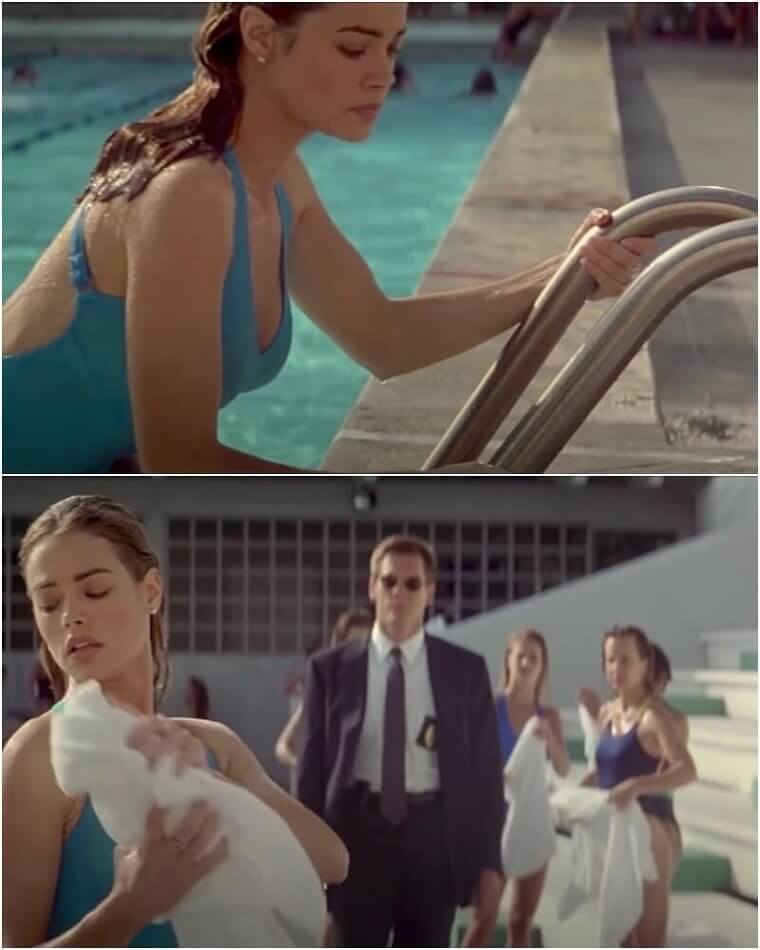 Much like Phoebe Cates in the 1980s, Denise Richards' moment of glory became the obsession of teenagers who were so very thankful for that pause button on their remote control. The steamy kiss with Neve Campbell also needs to be mentioned, but that's more of a replay type of thing.
Teen Wolf (1985)
Teen Wolf is the ultimate "when life gives you lemons" type of movie - a high school misfit is initially dismayed when he finds out he's a werewolf, but then decides to use his newfound skills to his advantage.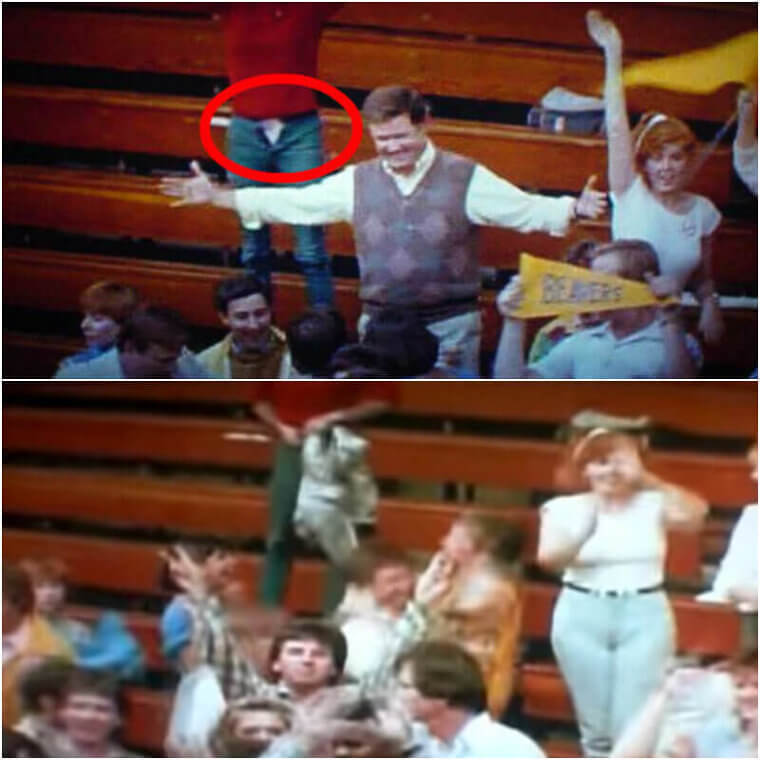 There's no surprising plot twist here, but at the end of the film, there's a scene viewers need to pause to make sure they're seeing what they're seeing. When everyone on the bleachers is celebrating a big win, one of the extras has their pants undone, and can be seen trying to zip them back up.
Basic Instinct (1992)
What could we possibly say about the Sharon Stone leg crossing (or, more accurately, uncrossing) that hasn't been said before? Probably nothing, since it is only one of the most iconic movie scenes, like, ever.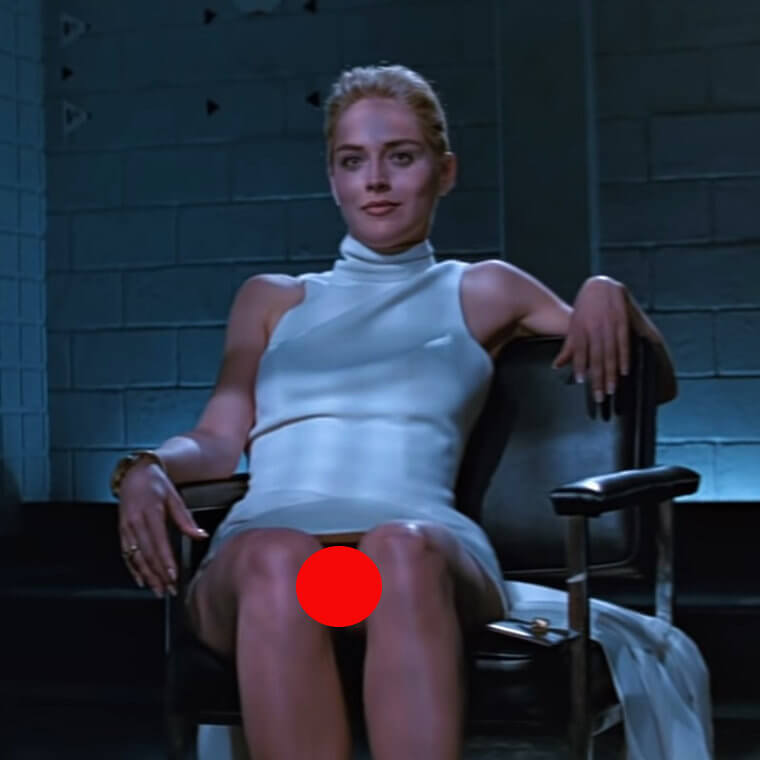 Some would say that this is, without a doubt, the most paused movie moment in history, and we can't disagree. Heck, some would say that this movie moment is the reason why the pause button was invented in the first place.
Captain America: The Winter Soldier (2014)
MCU movies have a global audience, which is why we think this detail on Captain America: The Winter Soldier is genius. Remember when Captain America is making a list of things to catch up on?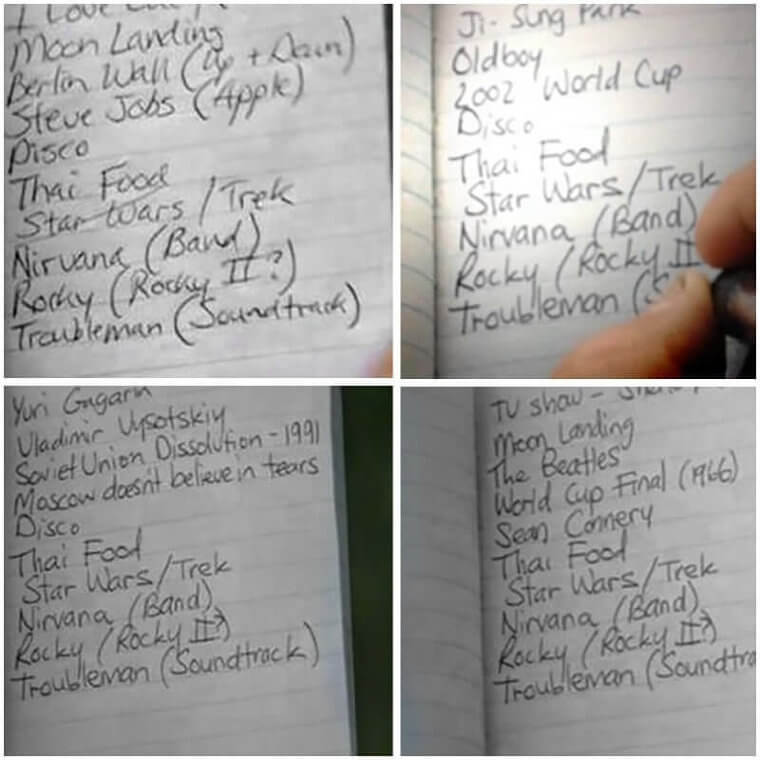 A group of Redditors who were making a very good use of the pause button discovered that while most of the items were the same everywhere, a few of them were "localized" to different audiences - this is how moviegoers in the United States, South Korea, the UK, and Russia saw that list.
Die Hard (1988)
Die Hard has some, well, diehard fans, and they'll say that the 1988 classic is as close to perfect as an action film can be. However, this pause-worthy moment begs to differ.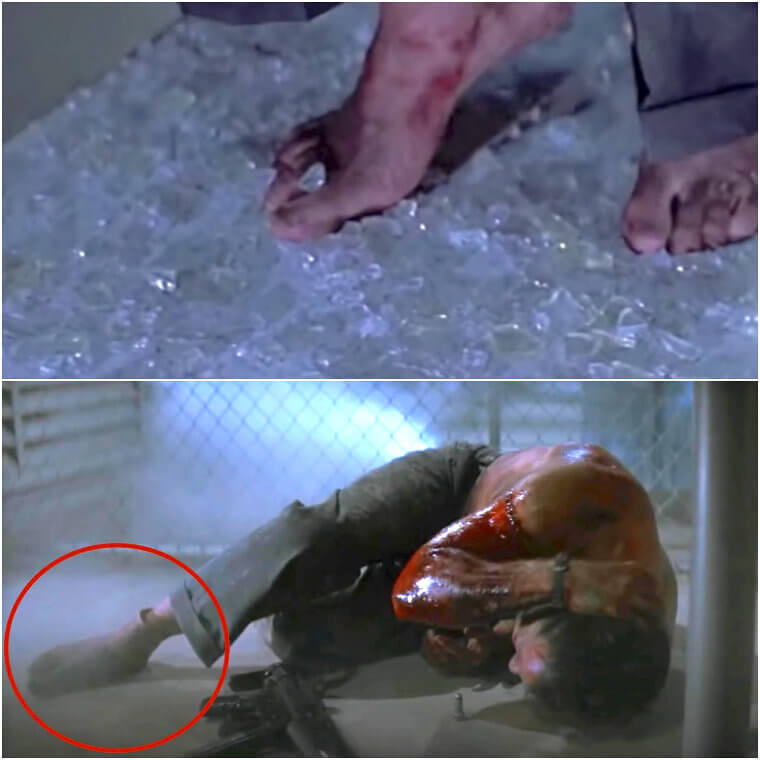 In the scene where Bruce Willis is running from the helicopter and he jumps to a lower level of the roof, you can see the rubber covering that the actor wore to protect his feet, which weren't actually bare.
Boogie Nights (1997)
While most of the "we're just being curious about the human body" pause-worthy moments on this list focus on female characters, here's an iconic moment that features a man.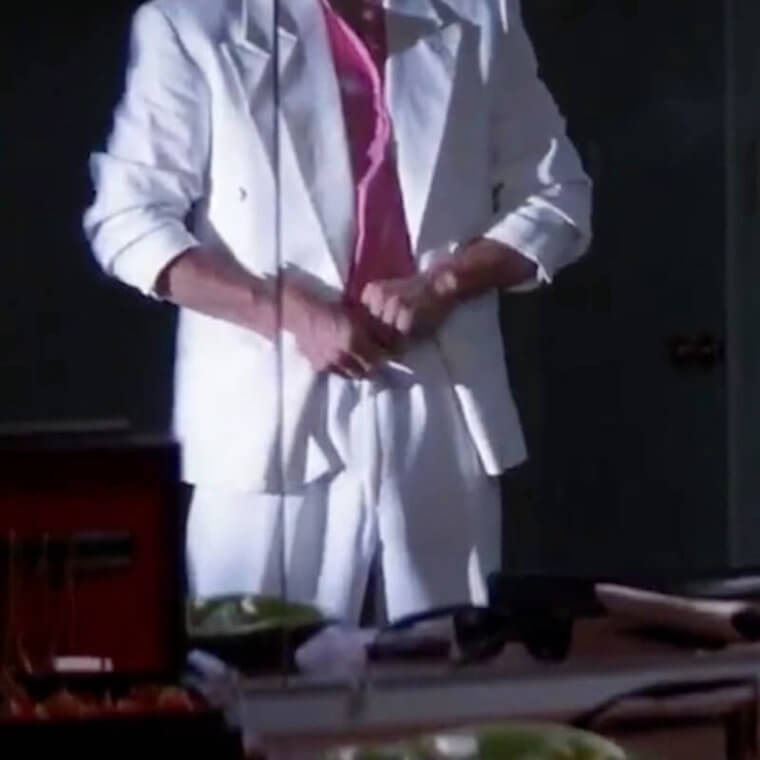 We're talking about the scene in Boogie Nights where Dirk Diggler, played by Mark Wahlberg, finally shows the audience what he's, ahem, working with. That was a prosthetic, by the way, and the actor reportedly kept it as a souvenir.
Zootopia (2016)
Zootopia was the fourth-highest-grossing film of 2016, and it had glowing reviews from the critics - people couldn't get enough of its perfect combination of cuteness and wit.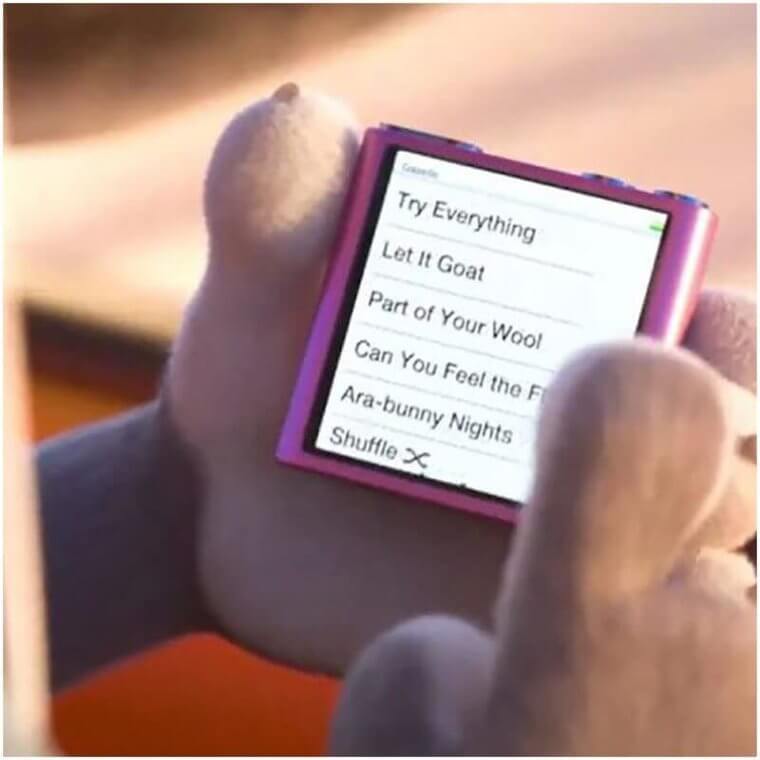 In this pause-worthy moment, you can see one of the film's many witty jokes. As Judy Hopps is scrolling through her iPod, you can see pun-y names like Fleetwood Yak and Guns N' Rodents, and songs like Let it Goat.
Tron (1982)
As one of the first movies ever to extensively use computer-generated imagery, we can imagine that fans couldn't help but pause every other second to take in the amazing visuals of the sci-fi adventure film Tron.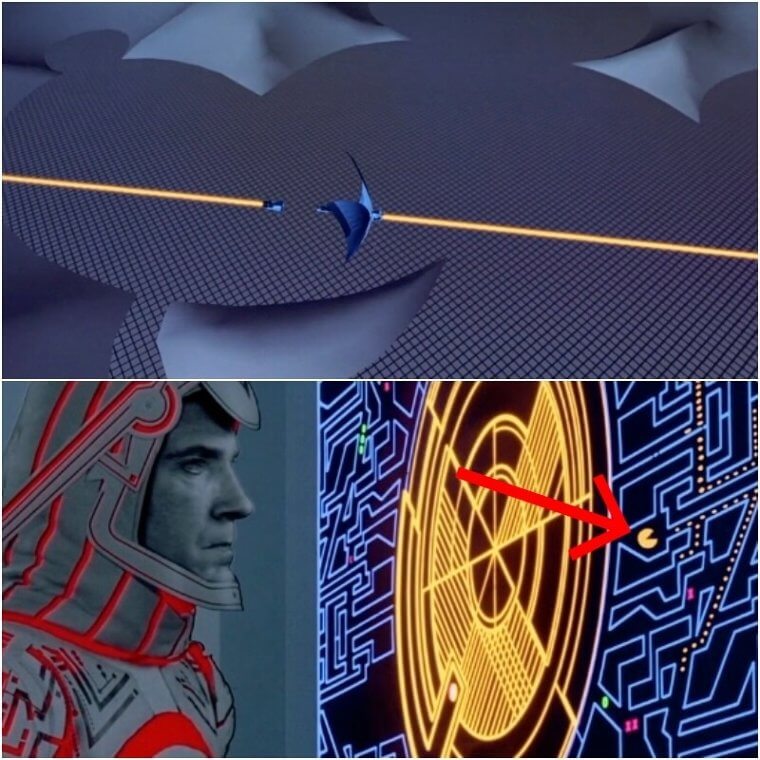 The makers of the movie were probably aware of that, because they gave fans plenty of pause-able moments. Check out this giant Hidden Mickey that basically takes the entire screen, and then the cameo from the one and only Pac-Man.
Beauty and The Beast (1991)
Beauty and The Beast is one of the highest-rated Disney animated movies of all time, and it's easy to see why. It's an enchanting film with unforgettable musical numbers, but more importantly, it's full of details that make people want to watch it again and again.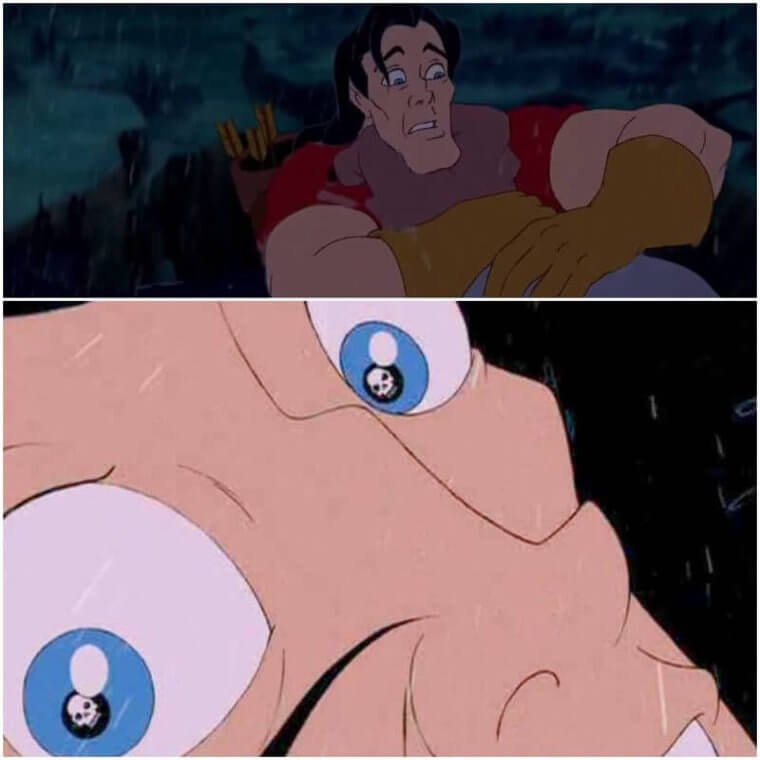 Gaston's final scene, for instance, became a pause-worthy moment once word got out about this tiny detail - as he's falling to his death, you can see two skulls in the pupils of his eyes.
Harry Potter and the Deathly Hallows: Part 1 (2010)
Harry and Hermione kissing is a strange thought, but it happened on screen during a certain scene from Harry Potter and the Deathly Hallows: Part 1 (2010). The steamy kiss took fans by surprise, but it was only a vision one of the horcruxes showed Ron, his greatest fear - Harry and Hermione together.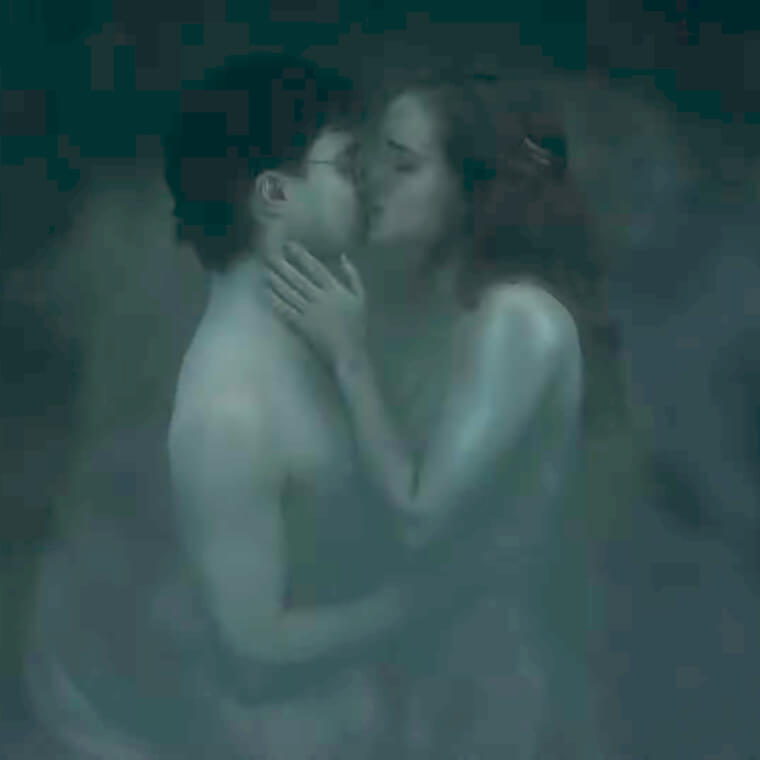 The vision, in which the two start telling awful things to Ron, starts with them being fully clothes. Then, they appear in the buff and kissing eagerly in ghost form. Talk about an intense pause-worthy moment!
Psycho (1960)
Psycho is arguably one of Alfred Hitchcock's most famous works, and the shower sequence is arguably one of the most famous in movie history. But that's not the scene people pause the most.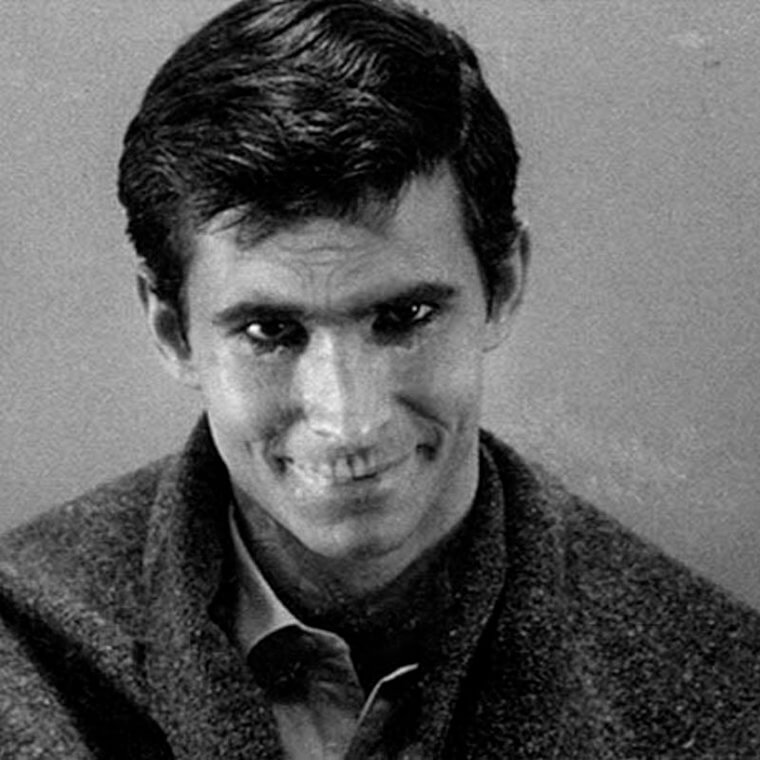 The moment that made the most-paused list is this one, showing Norman Bates at the very end of the movie, when for a split second you can faintly see a skull superimposed on his face.
The Little Mermaid (1989)
You never know what type of movies will cause people to want to hit that pause button, so this may come as a surprise, but Disney's The Little Mermaid is on this list.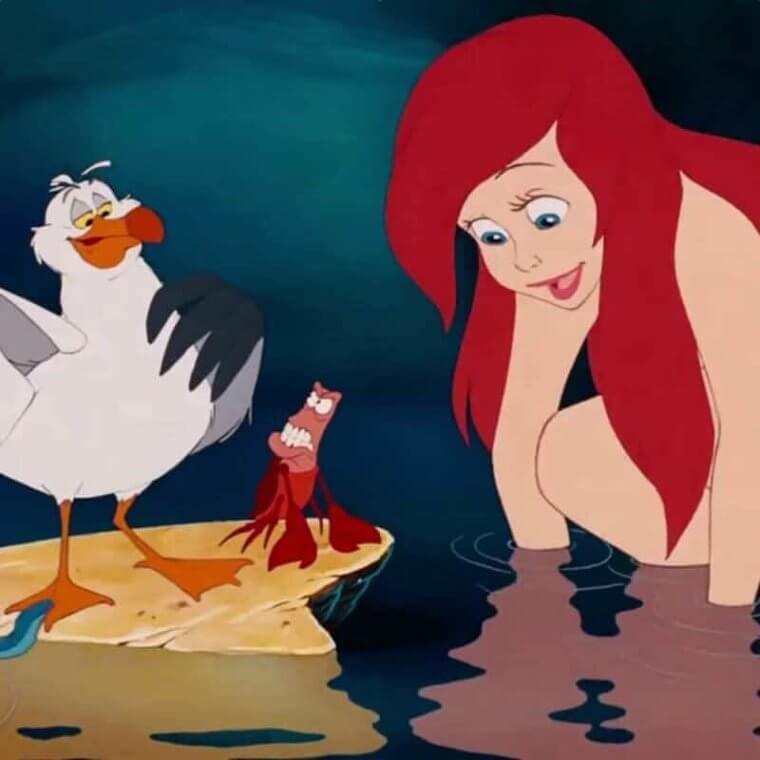 It just so happens that Ariel has a few scenes where she's supposedly not wearing anything at all, and since that doesn't happen much in Disney animated titles, people probably wanted to double-check.
Signs (2002)
M. Night Shyamalan knows exactly how to build up expectations, and his surprising reveal of the aliens in his 2002 sci-fi thriller Signs was well-deserving of a spot on this list.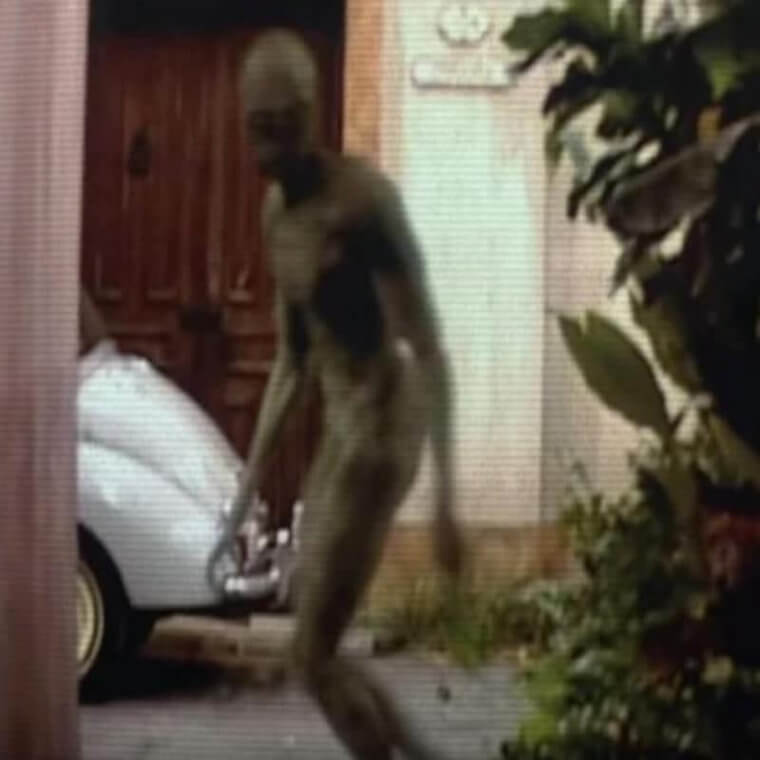 Audiences were caught off guard when the alien appeared for the first time, staring directly at the camera, but then disappearing the next second, and they simply needed more. Pause away, movie fans. Pause away.
Iron Man (2008)
It's not like there's a lack of Easter eggs in Marvel movies, but this was only the first title of what would eventually become the largest interconnected franchise in Hollywood, so fans were really paying attention.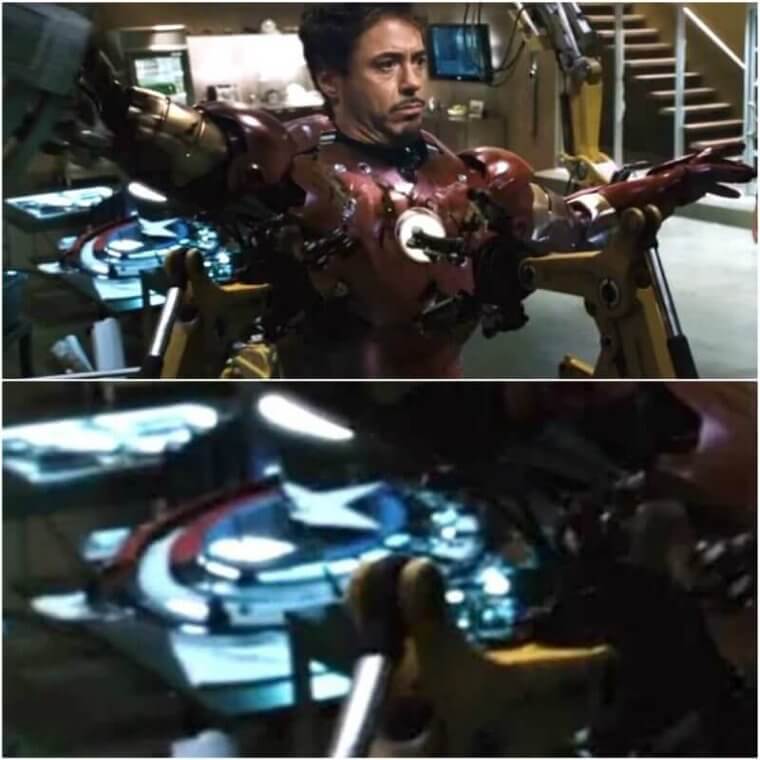 When Tony is at his workshop developing his metal suit, Pepper Potts stops by and as they talk, you can see an unmistakable object in the background - Captain America's shield, or most likely, a prototype of it.
Wildcats (1986)
Sports comedy Wildcats got some pretty bad reviews, with a critic calling it "pathetic," and another saying that even the football footage was "surprisingly dull," so we guess this is not one of those movies that people like to watch again and again.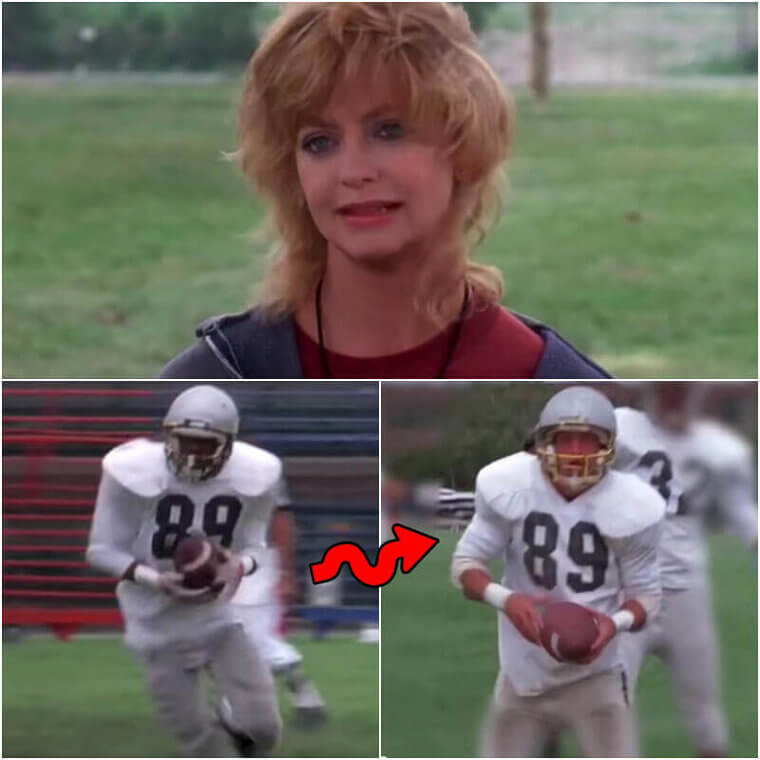 However, there's a scene in it that folks can't stop pausing and rewinding, because it is so unintentionally funny. It happens when #89, an African-American player, has the ball, and he gets tackled. When we see him getting up, he somehow magically turned white!
Fight Club (1999)
The person who discovered this blink-and-you-miss-it moment had to break the first rule of Fight Club - and the second rule as well, obviously -, because this was too good not to share.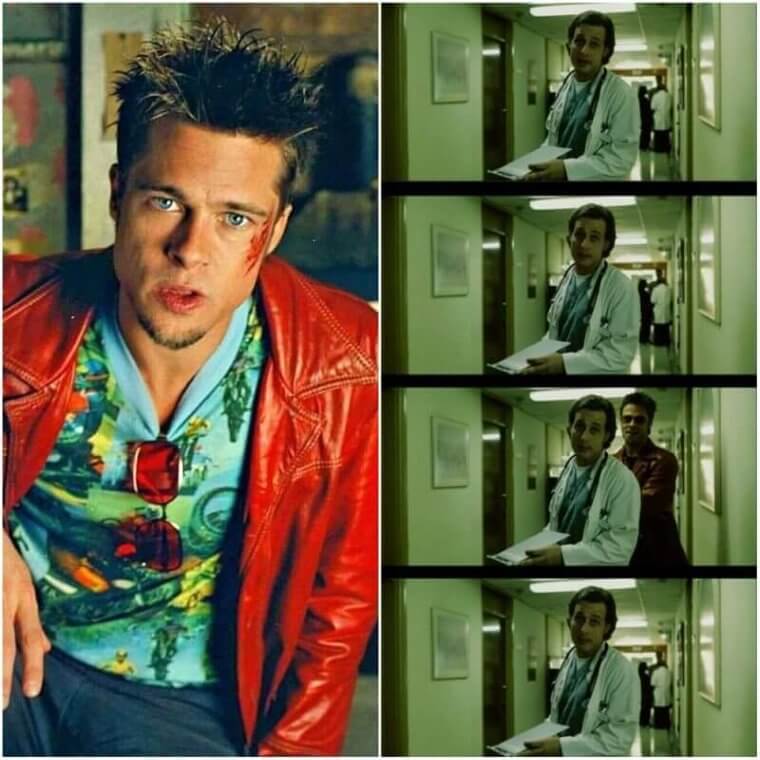 Tyler Durden is introduced to us much sooner than we realize, but it happens in one single frame, which means most people don't even register the information. Movie fans were working that pause button, trying to see if they could find the exact frame.
The Exorcist (1973)
The Exorcist is considered one of the best horror films of all time, and there's a reason for that. To create an uneasy atmosphere, director William Friedkin used several techniques, among which was this one - adding blink-and-you-miss-it close-up shots of demon Pazuzu.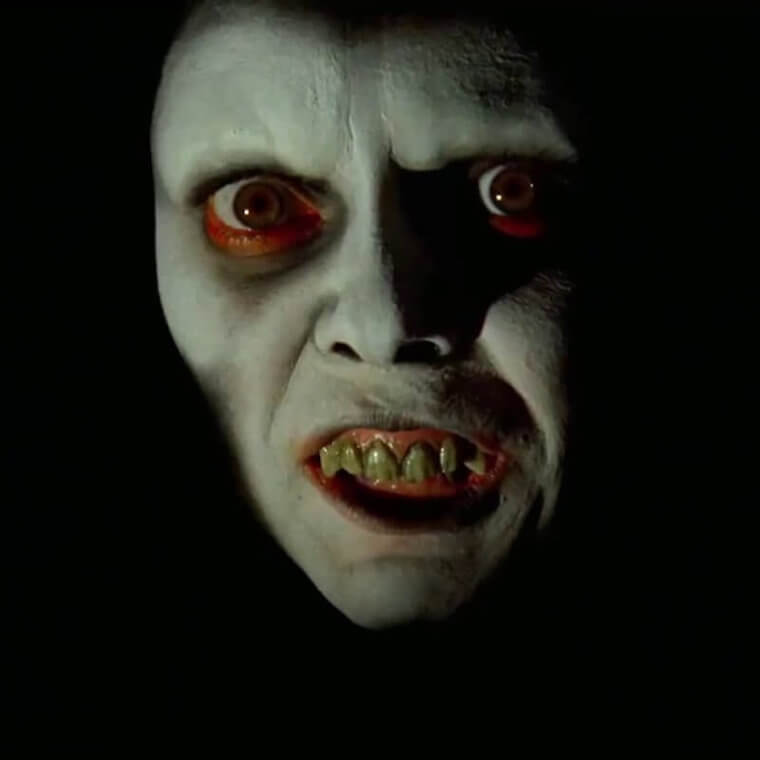 As soon as the movie came out on VHS and DVD, people were hitting that pause button, hoping to find the right frame so they could see Pazuzu in all its glory.
Cabin in the Woods (2012)
As an unexpected type of horror movie, Cabin in the Woods gave audiences an unexpected scene in which to pause - some scientists in front of a whiteboard.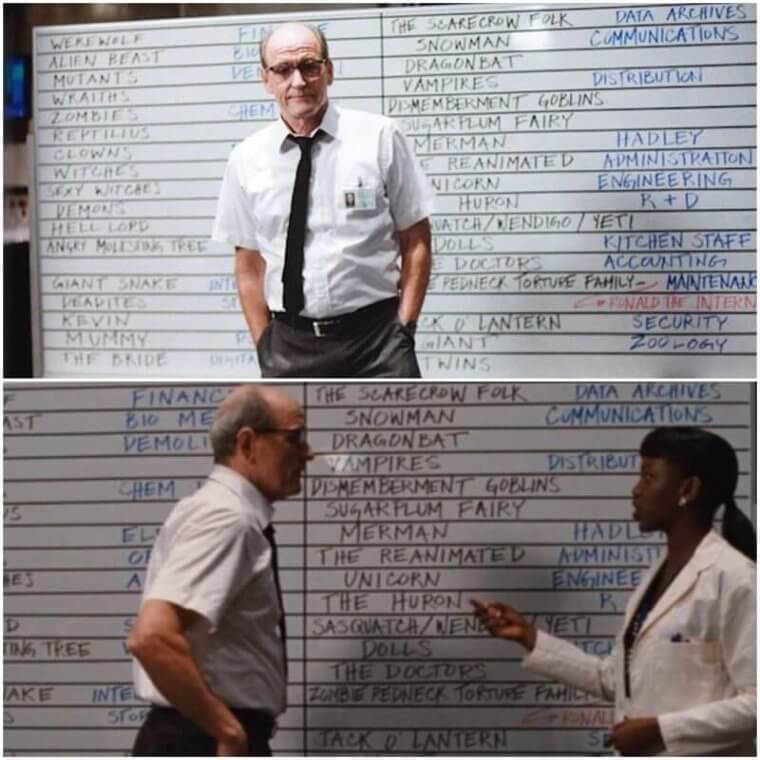 Of course, it's not the scientists people wanted to see, but what was written on the board. Among the monsters listed there were classics like zombies and vampires, unexpected creatures such as dismemberment goblins and the Sugarplum Fairy, and a mysterious "Kevin."
Deadpool 2 (2018)
Superhero movies tend to have a lot of fast-paced, "blink and you miss it" type of scenes, and Deadpool 2 is no different. What makes this particular moment special is that, if you blink, you'll miss a major Hollywood A-lister doing the world's fastest cameo.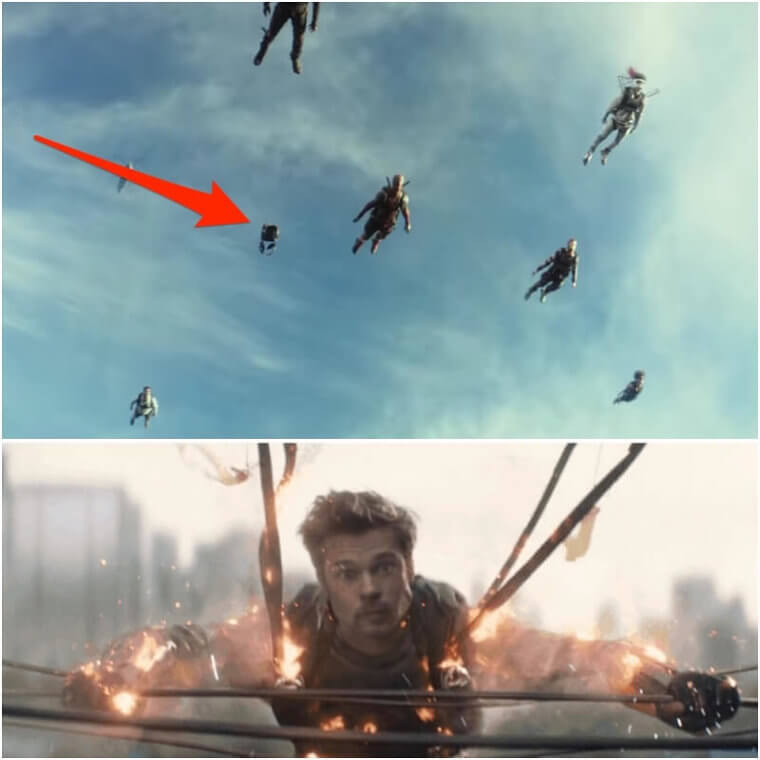 When the invisible superhero Vanisher parachutes off of an airplane, he accidentally guides himself into a set of wires and gets electrocuted, revealing to the audience that he's in fact played by none other than Brad Pitt.